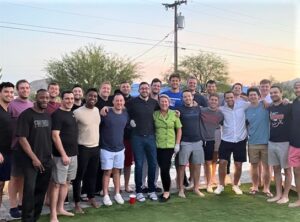 As you may have heard or experienced, a bachelor or bachelorette party is a celebration that is organized by friends or family before someone gets married to his or her significant other. It usually takes place a few days or weeks before the wedding day and symbolizes the end of an era and the beginning of a new chapter in a man's life.
In the vast majority of cases, it is the closest friends or the bride or groom that take care of all the details: organization, guest list, decoration, catering, activities, transportation, etc.
Traditionally, the groom's best man or closest friends take care of planning the bachelor party. However, there is no official rule that states that a specific person has to organize the event. In fact, even the groom could plan his own bachelor party.
How long the bachelor party lasts is generally a question of budget. However, a standard rule of thumb is three days or nights of partying. This gives you plenty of time for fun, adventures, and activities without too much downtime, which keeps everyone's mood upbeat and excited about what's next.
It ensures that there will be enough time for everyone to have one-on-one conversations with the groom. It also allows the groom to open up and discuss any concerns or apprehensions about getting married that he might have been keeping to himself up until this point. A bachelor party is a moment to bond, share feelings, let loose, and enjoy the last moments of single life.
Go on a Golfing trip to Arizona is a great bachelor party idea for the perfect pre-wedding celebration
If golf is your thing, why not plan a golfing trip as part of your bachelor party?
This will give you an excuse to play 18 holes, but it will also provide you with plenty of opportunities to bond with all your friends before walking down the aisle!
After a day on a course, have a pool party! Make sure that everyone brings their swimming gear to enjoy the water thoroughly. You can also organize a barbecue and cook or hire a personal chef to take care of the grilling!
Plus, hiring a personal chef to cook the groom's favorite food is a surefire way to
make the bachelor party a memorable night. Book a Chef Zoia with BZchefathome
for the unparalleled at-home culinary experience. The process is simple: pick a date,
choose a menu and invite your friends. There is no shopping, no preparation, no
clean-up, and no stress. The chef comes to you and takes care of everything!
If you want to make the event even more memorable, plan a casino night. This is
the perfect way for the groom and his friends to have fun and bond before the
wedding day. You can also use this opportunity to teach them how to gamble
appropriately without losing too much money.
What are you waiting for, guys?! Beautiful and year-round sunny Arizona and
Chef Zoia will welcome you!